Course Dates:

January 2 - 13, 2019 (self-paced)
Nothing is more gratifying than hearing from a parent that you have made all the difference in their child's life.
And nothing is more discouraging than having a parent challenge or even actively undermine the work you're doing.
Between these two extremes is a world of possibilities for opening up communication and collaboration with parents. With many communities reaching close to 100% web connectivity with families through smartphones and computers, the possibilities for reaching out and staying in touch multiple.
This course will help you navigate the many categories of families you'll encounter in your work, from those eager to help to ones you never hear from. You'll glean strategies for working with parents of struggling learners, families where English is not the native tongue, and parents who are uncomfortable in schools because they personally did not experience success there.
Along the way, we'll help you rethink the most common touchstones for connecting with families--curriculum nights and open houses, parent/teacher conferences, and family literacy nights/schoolwide celebrations.
The course is divided into six sections:
Part 1: What I Know Now and Wish I'd Known Then: Foundation for Good Family Relations
Part 2: All About Conferring with Parents
Part 3: Curriculum Night and Open Houses
Part 4: Language: Does Yours Open Doors or Put Up Walls?
Part 5: Special Considerations: Connecting with Struggling Learners, English Language Learners, and Nontraditional Families
Part 6: Family Literacy Nights and Schoolwide Celebrations
Bonus segments on working with middle school families and helping parents talk with their children about school.
Resources include many examples of successful activities and programs, with the timelines, tools, and templates to replicate that success in your own classroom or school.
Your instructor for this course is Jennifer Schwanke, an elementary school principal in Dublin, Ohio, and author of the book You're the Principal! Now What? Strategies and Solutions for New School Leaders (published by ASCD).
Contributors of print and/or video to the course include:
Tara Barnett
and
Kate Mills, Max Brand, Andie Cunningham, Heather Fisher and Kathy Provost, Deb Gaby, Tony Keefer, Clare Landrigan
and
Tammy Mulligan, Dana Murphy, Trish Prentice, Franki Sibberson, Katherine Sokolowski, Gretchen Taylor, Stella Villalba,
and
Jennifer Vincent
.
*Please note: Early Bird Bonus ships only to United States -- international enrollees will receive an extra month on Choice and Lead Literacy memberships as their bonus.
Your Instructor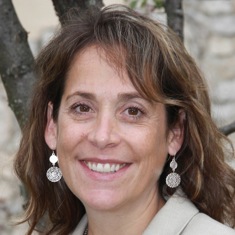 I am an elementary school principal in Dublin, Ohio. I've been an administrator at middle and elementary levels for 13 years. Prior to that, I was a middle school language arts teacher. I am also a graduate instructor at Miami University of Ohio.
I have written for Principal Magazine, Principal Navigator, and ASCD Express, and I am a frequent contributor to Education Week. I am the author of the book, You're the Principal! Now What? Strategies and Solutions for New School Leaders, published by ASCD.
My husband, Jay, is an athletic director. We have two children, Jack and Autumn, and a ridiculously beloved cat, Lucky, who was a dramatic rescue from my parents' barn. I am also an avid yogi.
My fun fact? Back in my bartending days, my employer entered me in a corporate competition, and I won the Bartender of the Year award. We were judged on speed, accuracy, and creativity. I earned $500, which paid for two months of living in the dilapidated mobile home I rented while working through graduate school. I felt immeasurably wealthy after that competition!

Frequently Asked Questions
When does the course start and finish?
The course is available beginning on September 17. The instructor will respond to participants through September 29, and you will have access to all materials through November.
How long do I have access to the course?
Course access begins on September 17, and you will be able to ask the instructor questions for the first 12 days. We encourage you to log in and begin the course in this time frame -- this is when the comment boards will be most active. But we know life happens, and you may need more time to go through the many screencasts, articles, and videos provided. That's why you'll have full access to the course through November, and member access to the Choice Literacy and Lead Literacy websites through December 17.
How long does it take to complete the course?
We estimate it takes approximately 15 hours to complete all the screencasts, videos, and articles available in this course.
Can I sign up for graduate credit?
We do not offer graduate credit for this course. But we do provide a certificate of completion for the course listing 15 contact hours. Many participants in the past have used their certificate for recertification, but you will need to check the specific requirements within your district or state to see if participation qualifies you for recertification credit.
What if I am unhappy with the course?
We would never want you to be unhappy! If you are unsatisfied with your purchase, contact us in the first 30 days and we will give you a full refund.
Please Note: If you have a paid Choice Literacy or Lead Literacy subscription, you are eligible for a $40 discount off the $179 course price. Just sign up at this link from within your member account to receive your discount. If you wish to pay for this course offline with a check or purchase order, click here to download the order form.